Web Design
•
on April 1st, 2010
•
Comments Off

on Center For Brain Training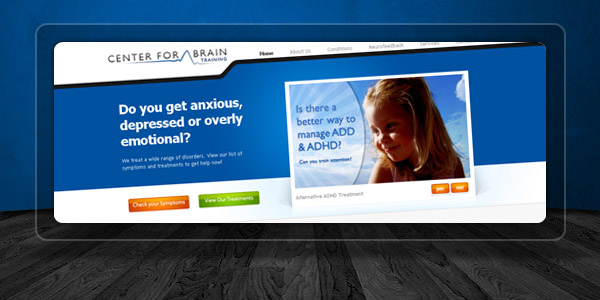 Extreme Homepage Makeover
The Center For Brain Training provides treatment for a range of psychological disorders including autism, depression, anxiety, ADHD, migraines, PTSD and others using cutting-edge neurofeedback training. Center For Brain approached us to redesign their aging website to better reflect the modern nature of their advanced biofeedback treatments and provide an easier to update CMS for the content-heavy site. The makeover provides a great "before & after" contrast and Center For Brain is thrilled with all the unsolicited positive feedback they get from their new website.
What the client says:
I'm multiple years into the web and have learned the hard way the limitations of web developers. I'm on my second major Web development project with Jeff [at Cluster One] and have recommended him to a couple of colleagues. Why? For one, he designs "clean" looking websites. Really clean. Everyone who goes to my websites tells me how good (and professional) it looks. 2) He listens well. With lots of consultations before implementation, he actually used what we discussed. He helped me think through pros and cons of different approaches. It was complex. He heard it and used it. That's rare. 3) He organized a huge amount of information into a website that's logical, flows well and makes sense. He did a great job of organizing content.
-Michael Cohen
President, Center For Brain Training
www.CenterforBrain.com
www.AboutNeurofeedback.com
Highlights
Creative direction
Branding
Logo design
WordPress CMS
Homepage slide show
Integrated blog/news section
Streaming video